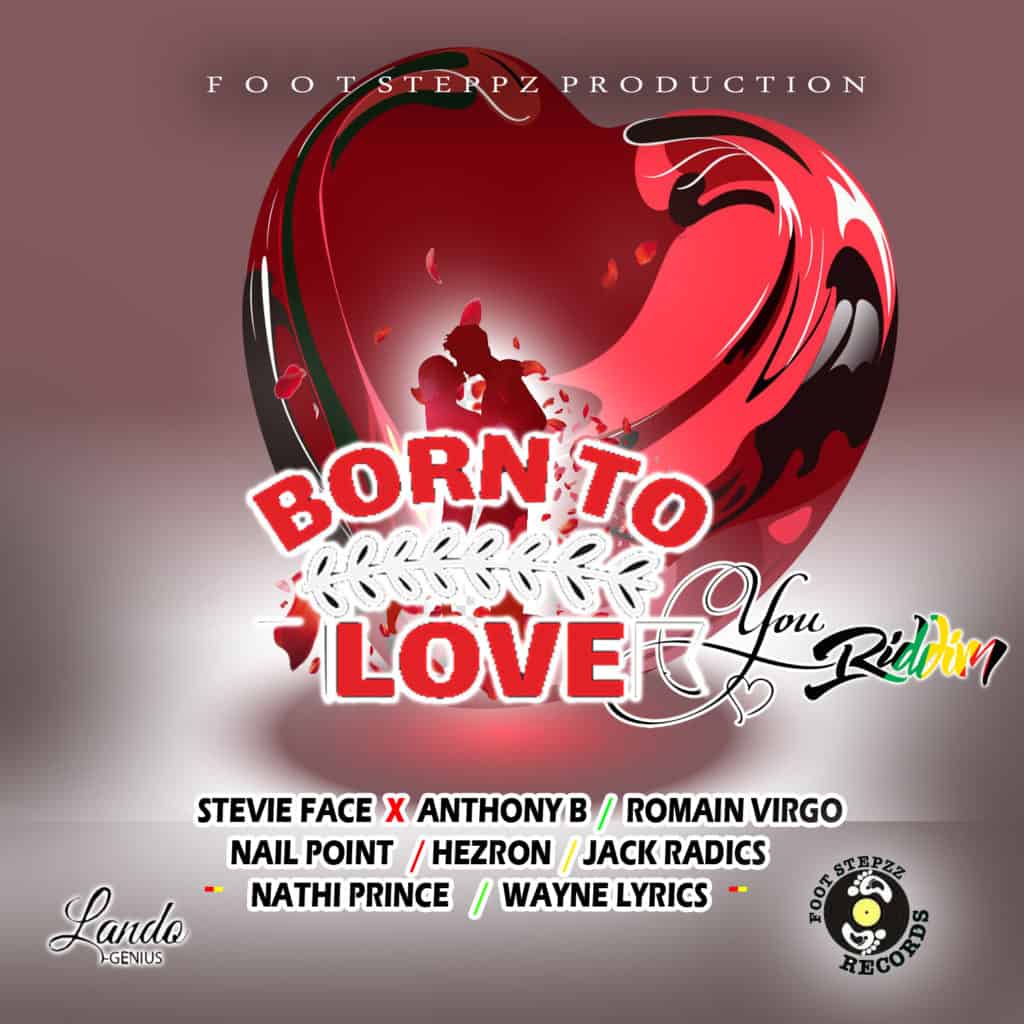 Produced By Ainsworth Higgins for Footstepzz Prod. All Instruments played by Nereus Joseph except guitar by Chris Lane. Mixed By Christopher Birch.
THE BORN TO LOVE YOU (BTYL)RIDDIM IS THE LATEST PROJECT FROM THE FOOTSTEPZZ CAMP AND FEATURES BANGERS FROM SEVERAL OF THE GENES TOP CROONERS AND SHOWCASES A FEW EMERGING ACTS.
JACK RADICS. STEVIE FACE ANTHONY B ROMAIN VIRGO AND HEZRON LEAD THE CHARGE WHILE NATHI PRINCE NAIL POINT AND WAYNE LYRICS HAVE ALSO MADE IMPRESSIVE CONTRIBUTIONS.
FOOTSTEPZZ IS THE BRAINCHILD OF VETERAN BROADCASTER AND EVENT MANAGEMENT SPECIALIST AINSWORTH BIG A HIGGINS AND BUSINESS PARTNER LYNDON LAZZER HULL.
THEY HAVE PRODUCED SEVERAL SUCESSFUL PROJECTS INCLUDING THE BOOM BLAST RIDDIM (2001)
HALF WAY TREE (2010) AND THE ONE CHANCE RIDDIM (2017)
'I AM A FAN OF THE MUSIC OF THE 70S AND 80S. THERE IS SOMETHING INFECTIOUS ABOUT THE RHYTHMS OF THAT ERA AND I DO BELIEVE THAT IT IS THOSE BEATS THAT HAVE GIVEN US THE ESSENCE OF OUR MUSIC.' HIGGINS REMARKED
I WAS GETTING READY TO DROP ANOTHER PROJECT BUT WASN'T QUITE SURE OF WHICH DIRECTION I SHOULD GO.
THEN ON A VISIT TO THE UK LAST YEAR I WAS INVITED TO A STUDIO WHERE NAIL POINT WAS DOING WORK ON A SINGLE THAT HE ASKED BE TO CO PRODUCE. IT WAS A REMAKE OF THE TEMPTATIONS CLASSIC BORN TO LOVE AS INTERPRETED BY SLIM SMITH AND COXSONE DODD
I WAS IMMEDIATLEY IMPRESSED NOT ONLY WITH HIS VOCAL DELIVERY BUT ALSO THE WAY IN WHICH THE RIDDIM WAS LAID. I IMMEDEATLEY STARTED HEARING OTHER ARTISTS IN MY HEAD.
AS SHAABA RANKS NOTED. 'DJ EARS COCK UP WHEN DEM HEAR BOOM RIDDIM'. THIS DJ JUST HEARD A BOOM RIDDIM.THEN AND THERE WE DECIDED TO FINISH UP THE TRACK AND DECIDED TO MAKE IT A FULL PROJECT.AFTER RECORDING MY FRIEND WAYNE LYRICS ON THE RIDDIM I TOOK THE RIDDIM BACK TO JAMAICA AND STARTED TO WORK FURTHER ON THE PROJECT. I AM HONORED TO BE ABLE TO WORK WITH SOME OF THE COUNRTY'S FINEST VOICES AND IN PAYING IT FORWARD I HAVE GIVEN NEW TALENT THE OPPOURTUNITY TO RISE TO THE OCCASION.
THAT IS THE CONCEPT OF FOOTSTEPPZZ RECORDS. WALKING IN THE FOOTSTEPS OF GREATNESS AND LEAVING BEHIND A TRAIL SO OTHERS MAY WALK IN YOURS.
THE PROJECT HAS BEEN GETTING RAVE REVIEWS ALL ACROSS THE WORLD BUT ESPECIALLY IN THE UK WHERE IT IS A STAPLE ON BOTH LEGAL RADIO AND PIRATE STATIONS. IN NEW YORK IRIE JAM RADIO HAS BEEN SHOWING IT LOTS OF LOVE.ARTISTS HAVE BEEN GETTING CALL FOR PERFORMANCES IN THE UK BASED ON THE SONG THEY HAVE DONE ON THE PROJECT.
LOCALLY IT HAS BEEN GETTING A LOT OF RADIO SUPPORT IRIE FM ZIP FM HITZ SUN CITY AND FAME FM HAVE ALL ENDORSED THE PROJECT BIG TIME. MEANWHILE THE ARTISTS ARE ALL SUPPORTING THEIR SINGLES BY PROMOTING IT ON THEIR PLATFORMS AND HIGHLIGHTING IT IN THEIR INTERVIEWS.
AS A DJ I HAVE MADE MY BRAND BY PLAYING QUALITY MUSIC AND BREAKING NEW TALENT FOR THE PAST 3 DECADES. AS A PRODUCER MY VALUES ARE THE SAME. EACH OF MY PROJECTS WILL APPEAL TO DIFFERENT NICHES BUT IT WILL ALWAYS BE OF A HIGH STANDARD AND SOMEWHERE IN THE LINEUP OF ACTS WILL BE NEW TALENT, GIVEN A CHANCE TO BE EXPOSED.