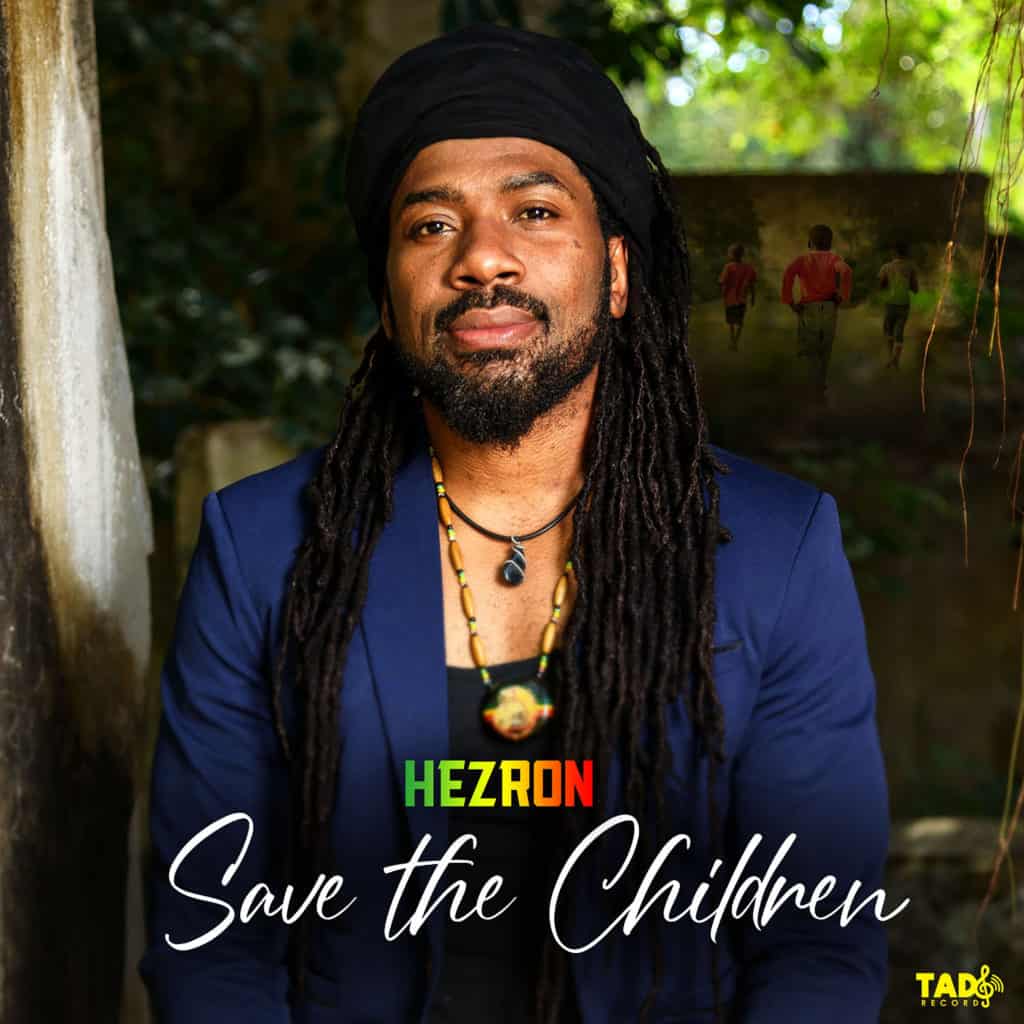 Hezron Decries Child Abuse on Save The Children, Single and Video To Be Released June 24th
The Powerful Plea to Protect Our Youth is the Third Single from Hezron's Much Anticipated Third Album M.O.A.M. (Man on a Mission) due on Tad's Record on July 29th
Disturbed by the alarming number of news reports of brutal acts committed against the youth, including physical and sexual abuse, Jamaican singer/songwriter/musician Hezron Clarke urges protection of our most precious resource and our future, on his latest single, "Save The Children," which will be released June 24th, via Tad's Record. "Save The Children," written, performed and produced by Hezron, featuring Dean Fraser on saxophone, was recorded in Kingston at Tad's International Recording Studio and MountainLion Music JA.
Hezron was initially inspired to write "Save The Children" after watching a documentary about child soldiers in Sierra Leone; an estimated 14,000 children aged 8-14 were recruited by both the Revolutionary United Front (RUF) and Sierra Leone Army (SLA), in that west African nation's vicious, eleven-year civil war. "The documentary showed the armed rebels going into the villages and taking the strongest, youngest children, oftentimes maiming or murdering their parents, then sexually abusing the children, putting guns in their hands, giving them cocaine and other drugs and turning them into zombie soldiers, so brainwashed child soldiers were fighting each other; after I saw that, I started the song in my mind," Hezron explained. During Hezron's tour of Jamaica earlier this year supporting his reggae anthem "Man On A Mission," the first single from his M.O.A.M. (Man on a Mission) album, he learned of the widespread atrocities suffered by children across the island. "Radio personality Jennifer "Jenny Jenny" Small (of Hitz 92 radio) told me that there are numerous homes for unwanted children in Jamaica and the dons and gangsters in the ghettos rape some of these kids, take them away and turn them into killers," Hezron said. In Jamaica, the Child Protection Family Services Agency (CPFSA) received 9,800 cases of abuse against children in 2020. Sexual abuse accounted for 20 percent of these reports. The children's registry reports an average of 700-800 cases monthly for 2021 and UNICEF reports that approximately 79 percent of children in Jamaica will experience some form of psychological or physical violence in their communities or homes. "When Jenny explained the egregious, intense situation, with fathers and uncles abusing young girls and boys, a fire built up inside of me and I had to get it out so, I took out my guitar, then the melodies came followed by the chords and then the words."
Hezron begins "Save The Children" with a poignant line spoken by one of Sierra Leone's child soldiers featured in the documentary, "Daylight don't come shining again cause all your rays display these days are pain and sorrow," which he rhymes with a rejection of the hollow assurances from leaders throughout the world who have failed to safeguard our youth, "Promises, keep your promises, yeah, 'cause I see no change initiate for a better tomorrow." But it is the song's simple yet powerful chorus and the haunting, heartfelt pain in Hezron's vocals, that convey the urgency of the situation, as he wails, "Oh oh oh oh oh!! Save the children, save children, the future to this earth/ Oh oh oh oh oh! Save the future, save the children."
Hezron started writing "Save The Children" in March 2022 and he completed the song in mid-May, observed as Child Month in Jamaica, less than two weeks prior to the elementary school shooting in Uvalde, Texas, where 19 students and two teachers were killed. Three days before the song's release, on June 21, a mother and her four children aged 15, 10, 5 and 23 months were found dead, their throats slashed in their Clarendon, Jamaica home.
The video for "Save the Children" was filmed at Steer Town Primary and Junior High School in St. Ann, Jamaica, directed by Devon Morris, who is responsible for many of Hezron's acclaimed videos including "Man On A Mission" and "Tik Tok I'm Coming." "We went to a school in St. Anns and filmed kids having fun, reminding the world of that wonderful, innocent vibe that children have and needs to be protected. We also put in the video clips of what is going on with children internationally, children in the Ukraine orphaned by the war with Russia, child soldiers at war in Africa, children fatally shot at schools in the US, and children murdered in Jamaica, showing the injustice and horrific acts committed against them around the world"
"Save The Children" is the third single from Hezron's much anticipated third album M.O.A.M. (Man on a Mission) due on Tad's Record on July 29th. The album's second single "Tik Tok I'm Coming," a scorching, sensual, soul jam, has sat at number one for four weeks on Clinton Lindsay's South Florida Reggae Charts and Richie B's Jamaica Top 25 Reggae Singles Chart.
For more information about Hezron, "Save The Children" and M.O.A.M. Man On A Mission album, please contact Tad's Records at: USA – 1-877-4Reggae / Jamaica – 876-929-2563.