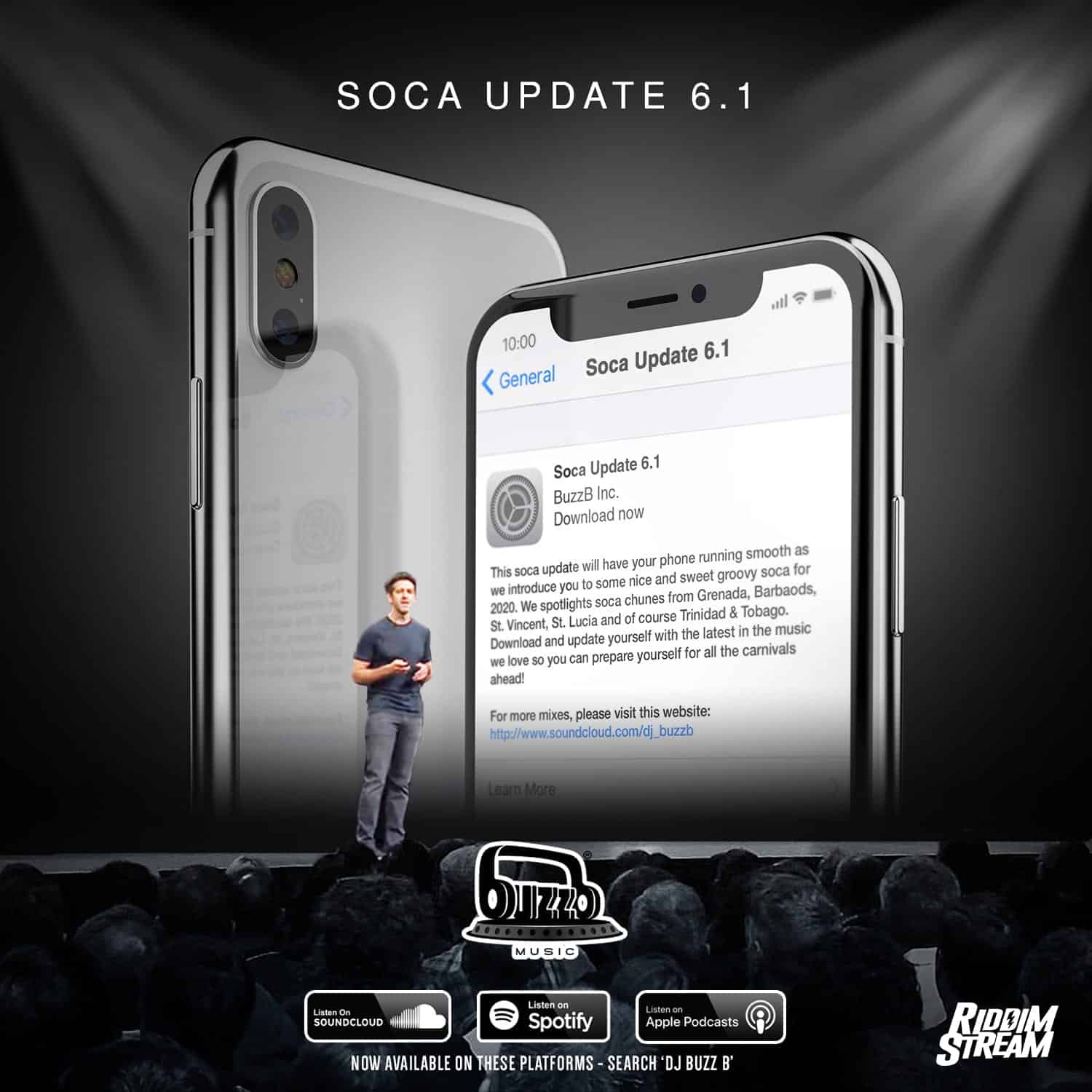 | File | Action |
| --- | --- |
| SOCA-UPDATE-6-1-NEW_2020_GROOVY_SOCA.mp3 | Download |
SOCA UPDATE 6.2 TRACK LIST
1. MS. CARNIVAL (CLASSY RIDDIM) - VOICE
2. PRIVATE PARTY (CLASSY RIDDIM) - LYNDSEY
3. NO TOMORROW (CLASSY RIDDIM) - KERWIN DU BOIS & ADANA ROBERTS
4. CARRY ON (POPS GUITAR RIDDIM) - PATRICE
5. FEEL IT (POPS GUITAR RIDDIM) - PROBLEM CHILD
6. PLAY HARDER (POPS GUITAR RIDDIM) - MACHEL MONTANO
7. SHOTS (BAILA RIDDIM) - MOTTO
8. NAKED (BAILA RIDDIM) - SKINNY FABULOUS
9. BOSS LADY (BAILA RIDDIM) - KES
10. JAMDONG (VORTEX RIDDIM) - KES
11. 10/10 (VORTEX RIDDIM) - LFS MUSIC
12. GENUINE (VORTEX RIDDIM) - NAILAH BLACKMAN
13. THANKS FOR THE LOVE (VORTEX RIDDIM) - KERWIN DU BOIS
14. I LOVE YOU (SOUL CHASE RIDDIM) - MACHEL MONTANO
15. ROCK THIS PLACE (SOUL CHASE RIDDIM) - SKINNY FABULOUS
16. DOH BEG (SOUL CHASE RIDDIM) - SKINNY FABULOUS & KONSHENS
17. HONEST DOLLAR (SOUL CHASE RIDDIM) - VOICE
18. SOCA GLOBAL - ERPHAAN ALVES
19. SOCA FEELING (PUSH BACK) - CHRISTO
20. SAUCE (FIZZLE PROJECT RIDDIM) - SEKON STA
21. MIDDLE (FIZZLE PROJECT RIDDIM) - ANGELA HUNTE
22. X GAMES (FIZZLE PROJECT RIDDIM) - TEDDYSON JOHN
23. WHAT SHE WANT (KANBOULAY RIDDIM) - ORLANDO OCTAVE
24. SWEET & LOCO - NAILAH BLACKMAN
25. TAMBOURINE (BELLS RIDDIM) - NUTRON
26. WHO PAY (BELLS RIDDIM) - SEKON STA X SALTY
27. FIRE BLAZE (BELLS RIDDIM) - SEKON STA
28. I LOVE MY RUM (BELLS RIDDIM) - KING BUBBA
29. TOAT NO FEELINGS (TOATING RIDDIM) - MOTTO X NESSA PREPPY
30. HOT GYAL SOCA (TOATING RIDDIM) - SHAL MARSHALL
31. KISS (TOATING RIDDIM) - NADIA BATSON
32. NO SCENE (TOATING RIDDIM) - LYRIKAL
33. SPLASH (CARIBE ROSE RIDDIM) - PATRICE X NESSA PREPPY
34. HOT GYAL (CARIBE ROSE RIDDIM) - JUS D
35. BEND YUH BACK (CARIBE ROSE RIDDIM) - SKINNY FABULOUS
36. BIG RIDE (BIG RIDE RIDDIM) - MOTTO FT BLACKBOY & EZRA
37. GIH DEM (BIG RIDE RIDDIM) - MACHEL MONTANO
38. PULL UP (BIG RIDE RIDDIM) - NESSA PREPPY X SALTY
39. IN D BAND (BIG RIDE RIDDIM) - SEDALE
40. I HAVE A PROBLEM (BIG RIDE RIDDIM) - MR LEGZ
41. BAD GYAL SECTION (FREE UP RIDDIM) - KONSHENS
42. OIL DRUM (FREE UP RIDDIM) - NAILAH BLACKMAN
43. BOSS WINE (FREE UP RIDDIM) - MACHEL X SALTY
44. PLAY ATEH (JESPOM RIDDIM) - COOYAH
45. CACK IT UP (JESPOM RIDDIM) - SEDALE
46. TAIWAN (JESPOM RIDDIM) - MIGHTY
47. CHINA (CLEAN) - BLACKBOY X LU CITY
48. OTW - SHEMMY J FT FREEZY
49. PINKY FINGER - KROME X DYCEMAN
50. DUSHI (JUICY) (PROJECT 2020 RIDDIM) - KES
51. SHOWTIME (PROJECT 2020 RIDDIM) - NAILAH X SEKON STA
52. GO DUNG (PROJECT 2020 RIDDIM) - VIKING DING DONG
53. CARNIVAL TOUCHDOWN - YOUNG DEVYN X'DONIA X KUTTRAH
54. COLOURS (RAW) - MELICK
55. GUN MAN IN SHE HOLE (RAW) - TRINIDAD KILLA
56. QUEEN - ORLANDO OCTAVE
57. DADDY REACH - KERWIN DU BOIS X DESTRA
58. POTENTIAL - VOICE
59. SOCA TAKE OVER (GOOD FEELS RIDDIM) - KES
60. COME TO PLAY (GOOD FEELS RIDDIM) - TURNER
61. LONG TIME - (HICKLE JUICE RIDDIM) - MACHEL MONTANO
62. WISHLIST - KERWIN DU BOIS
63. THE MOST (UBER SOCA RIDDIM) - SKINNY FABULOUS
64. LOOKIN FOR CHINA - BUNJI GARLIN
65. BAISSER (AFTER HOURS RIDDIM) - IMRAN NERDY
66. RUM AMNESIA (AFTER HOURS RIDDIM) - AQUEL J
67. TWO KNEE (FENDER BENDER RIDDIM) - SHAL MARSHALL
68. SHOW ME (BOOM) (FENDER BENDER RIDDIM) - FADDA FOX
69. BACK SEAT RIDE (FENDER BENDER RIDDIM) - PROBLEM CHILD
70. BEND (KRUNCH RIDDIM) - UMPA & TOTTI
71. BUM BUM (KRUNCH RIDDIM) - KELY B
72. VIRAL (KRUNCH RIDDIM) - KELLY B
73. GOOD TING NEED SHELTER (KRUNCH RIDDIM) - SHEMMY J
74. BREAK YUR (KRUNCH RIDDIM) - DDAY
75. ATTENTION (KRUNCH RIDDIM) - HITMAKER
#SocaUpdate
This update spotlights the new catchy 2020 Groovy Soca, with hundreds of new songs including music from Trinidad, St Lucia, Grenada, Barbados, VI, St Vincent & more. Download and update yourself with the latest in the music we love so you can prepare yourself for Trinidad Carnival & the rest of 2020!
*Mixtapes (Public Access)
You are not allowed to post review.