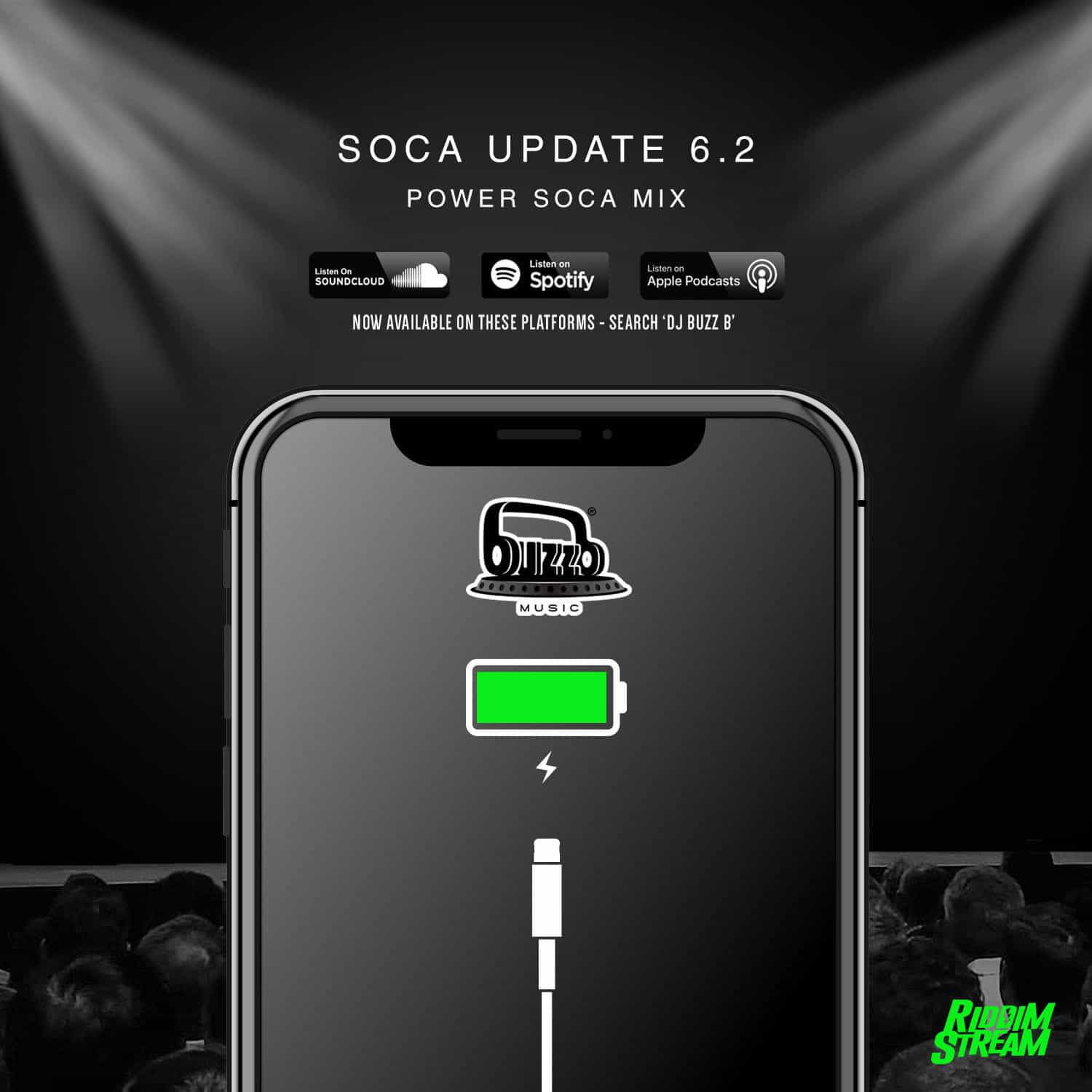 | File | Action |
| --- | --- |
| SOCA_UPDATE-6-2_NEW_2020_POWER_SOCA.mp3 | Download |
SOCA UPDATE 6.2 TRACK LIST
Break A Branch - Motto x Bunji
Block Away - Bunji
Soca Trend - Skinny Fab
Every Time - Machel
Make It Rain - Motto
Fete Ram - Shal
Hold On - Skinny Fab
Bum Bum Grr - Motto x Marzville x Mighty
Bumper Murder - Kerwin Du Bois x Mical Teja
Tek Jam - M1
Brace - Machel
NARP - RDX
Reckless - Skinny Fab x Bunji
Tun Up - Fay Ann
Party Smasher - Young Mickey
Fog It Up - Vibez King
Jab Doh Business - SXZ
Fast Stick - Gus x Cyrus
Sid Dong & Clap - Prado
Elevator - edwin
The Doh Tell You That - Nassis
I Right - Mousen & Siigz
Boom - Big Sea
Head Dung (Roadmix) - Akaiiusweet
Strange Things - Super Blue
Conch Shell - Skinny Fab x Machel x Iwer
Convert - Iwer
Different Jab - Prince George Ft. Luni Spark
Out On The Road - Ziggy Rankin
Born To Play - Blakkadrain
Jab Show Love - Anthony KD
I Doh Concern - Killa B
Culture Is We - Shortpree
What I Like - Bramma D General
Fence - Smallz
Prison - Clever
Angelina - D Regulars
You N See Me - Anthony KD
I Aint See - Trinidad Ghost
Chupid Girl - Khalifah
What Happen - Dash
BOP (Air Freshener) - Noydie Glo x Scatter
Rukshun - Lyrikal
Nasty Up - Problem Child
Sick Head - Problem Child
Hurricane Fete - Terra D Governor
Is We - Patrice
Bun Up - Shal
Dem Alone - Problem Child
Black - Master J
Big Long Thing - Boogie B & Mr Legz
Bad Cat - Pae3ot
Bend Right Over - Shireen B Ft Madman Pantha
Make U Bawl - KJ & Mirage
Go Down Low - Warlord
Was Could Be Better - Runi Jay & Killa B
Little Lady - Young Mickey
Screwdriver - Mr Killa
No Behaviour - Mr Killa
Let Go D Dawg - Mandella Linx
Live Stream - Lavaman
Outta Control - Skinny Banton
tuesday - Bunji x Lil Natty & Thunda
Oye Oye - Mr Legz
Facts - Problem Child x Machel
Loyalty - Machel
Doh Watch Face - Patrice
De Fence - Rudy Live
Carnival Zombie - Blackest
Pick A Side - Erphaan x KES
Teacher - Ricardo Drue x Lil Natty & Thunda
Shut It Down - Fay Ann
Not In Dez Pretty Ting - Bunji
Directive - Bunji
Bottles Up - Fede
Stink & Dutty - Rebels Band HD Ft Showtime
Insanity - Tallpree
We So Mad - Dunga
Zessin - Frankie D
Wirk - Rhino
Pressure On It - King Jase
Saltfish - Junior
Ever Clean - Slatta
Celebrate - Lyrikal
One Minute Xtra - Bunji
Dive - Fay Ann
Soca Storm - Mr Killa
Yuh Bad - Preppy
Stink Face - Kerwin Du Bois
Take Jam - Imani Ray
Best Side - DJ Addo x TBOSS
Up 7 Up - Skinny Fabulous
Do Like That - Lyrikal
Fatt - Nadia
So Bad - Ricky T
Drinking All Day - Hollywood HP
Bottle Over Head - Wetty Beatz ft Triniboi Joocie
Jumbie Head - Swappi
Feeling It - Swappi
Omalay - Super Blue x Ravi B x Trinidad Killa
Look At Woman - Mr Famous
Bam Bam Season - Nailah
Happy Carnival - Patrice
Power In Soca - Trinidad Killa
Jouvert Morning - Turner
Stink Behaviour - Teddy Rhymez x Machel
Jabas - Dyceman
Jab Rah - Skinny Fabulous ft Terra D Governor
Bachanal Army - Skinny Fab
Celebrate Life - Baxx
Best Friend - Showtime
After Hours - Farmer Nappy
Coming Down - Change
Eggplant - Drizzy
You Taking It - Chowdaa Frass
Skills Out - Gully Ft Banla
Bounce It - Migz
9 O'Clock In D Morning - Kisha Ft Blackboy
Iz Dat Yuh Like - Smooth
This update spotlights the new catchy 2020 Power Soca, with hundreds of new songs including music from Trinidad, Grenada, St Lucia, Barbados, USVI, St Vincent & more. Download and update yourself with the latest in the music we love so you can prepare yourself for Trinidad Carnival & the rest of 2020!
*Mixtapes (Public Access)
You are not allowed to post review.